Overtime Pays
McDonald's OT victory highlights Butler's 51-27 home wrestling triumph over Knoch
January 9, 2020 High School Wrestling

<![if !supportLineBreakNewLine]>
<![endif]>
<![if !vml]>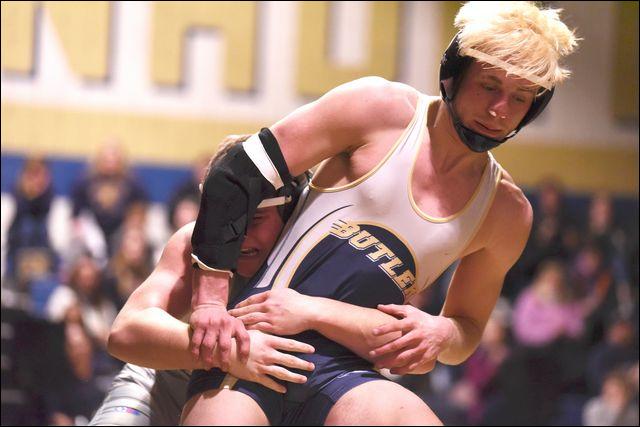 <![endif]>
Butler's Nate McDonald attempts an escape from Knoch's Kyle Lauster during their overtime match at 170 pounds Wednesday night. McDonald won the match on a reversal with six seconds left.
SEB FOLTZ/BUTLER EAGLE
BUTLER TWP — Four pins and four forfeitures keyed Butler's 51-27 wrestling victory over Knoch Wednesday night in the Butler Intermediate gym.
One overtime match highlighted the evening.
Golden Tornado senior Nate McDonald (10-5) scored a reversal on Kyle Lauster with six seconds left in the final overtime period for a 4-2 decision.
"If I don't score there, the match probably goes to criterion and I didn't want that," McDonald said.
McDonald had a 2-1 lead after the first period before a Lauster escape knotted the match in the second. Neither wrestler scored in the third perior or took down the other in a one-minute overtime. Lauster could not escape from the down position in his 30-second OT period. McDonald then scored the escape in the waning seconds of his 30 seconds in the down position.
"That was a gutty win for Nate," Butler coach Scott Stoner said. "He's been battling an elbow injury and hasn't wrestled in a couple of weeks. We just got him back two days ago. He had been doing light drills."
McDonald said he was "just trying to stand up, then I saw that reversal was there, so I took it.
"I could hear the crowd. They were loud and cheering for me. I drew some energy from that," McDonald added.
Knoch coach Grayson Hixon admired the effort of both wrestlers.
"Match of the night," he said. "I give that Butler kid credit. He busted his butt to get up and get the win. Kyle's effort was strong, too."
The Golden Tornado (4-1) got pins from Nick Schaukowitsh at 120 pounds, Nate McMaster at 145, Steven Green at 152 and Cooper Baxter at 182. Schaukowitsch (9-6) scored his fall just 1:06 into the match.
"We did well there, but I thought we looked stale and flat overall," Stoner said. "It's a long season and you're gonna hit a lull at some point.
"Maybe we picked the right time for that to happen."
Baxter improved to 12-2 with his seventh pin of the season. Only freshman Levi Donnel — who won by forfeit at 113 — has more falls (eight) for Butler this season.
"Coop's only two losses are to the kid from Freedom who placed second at the state meet last year," Stoner said. "He's been very consistent.
"He's actually a very light 182-pounder. He can weigh in at 170 and that's probably where we'll have him at the Virginia Duals."
Butler will compete at the Virginia Duals — a collegiate and high school event — Friday and Saturday at the Hampton Coliseum.
"It's the largest dual match tournament nationally," Stoner enthused. "I'm looking forward to seeing how we do in that atmosphere."
Knoch (0-3) picked up pins from Kameron Grassi at 138 and undefeated Guy DeLeonardis at 160. The Knights' Matthew Frank won by technical fall at 106.
"I thought we held our own tonight and had some good matches," Hixon said. "Kam and Guy are seniors and they're our captains.
"They've got a lot of experience on the mat and they're good leaders for us."
Knoch has eight wrestlers at the junior high level and approximately 35 kids in the elementary program "which is a good number for us." Hixon said.
"Eight to 10 of those kids are in their final year (of elementary), so our junior high team will get a boost next year."
Butler honored its own elementary wrestling program Wednesday night.
Knoch travels to Armstrong for a dual match next Wednesday.
"They took it to us in a couple of those matches tonight," Stoner said of Knoch.
Wednesday's win was the 365th dual victory of Stoner's 27-year career.
Butler 51, Knoch 27
(Match started at 106 pounds)
106-Matthew Frank (K) tech. fall over Aiden Plopi, 4:49 (17-2); 113-Levi Donnel (B) by forfeit; 120-Nick Schaukowitsch (B) pinned Nick Golab, 1:06; 126-Clayton Dressler (B) by forfeit; 132-Ty Misitis (K) dec. Colton Spohn, 15-5; 138-Kameron Grassi (K) pinned Dom Vivirito, 1:57; 145-Nate McMaster (B) pinned Gavin McGowan, 1:53; 152-Steven Green (B) pinned Adam Stobert, 3:27; 160-Guy DeLeonardis (K) pinned Hunter Neff, 5:38; 170-Nate McDonald (B) dec. Kyle Lausater, 4-2 in OT; 182-Cooper Baxter (B) pinned Sam Freyermuthy, 5:04; 195-Caleb Hartung (B) by forfeit; 220-Jake Pomykata (B) by forfeit; Hwt.-Eli Reese (K) by forfeit