Positioning counts
January 3, 2019 High School Wrestling

<![if !supportLineBreakNewLine]>
<![endif]>
<![if !vml]>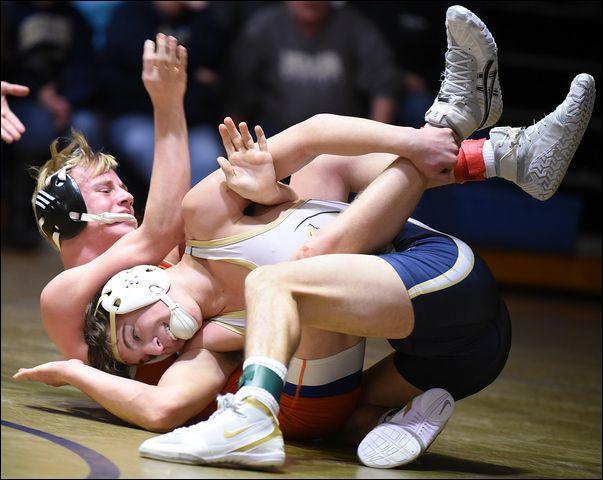 <![endif]>
Butler's Steven Green gets a reversal on Armstrong's Hunter Turner in their 145-pound match Wednesday night in the Butler Intermediate gym. Green won his match by technical fall.
JUSTIN GUIDO/BUTLER EAGLE
BUTLER TWP — Butler wrestling coach Scott Stoner knows Armstrong well. Last month, he watched it win the Chartiers-Houston Tournament and is impressed with the physicality the River Hawks bring to the mat.
Wednesday night, he was even more impressed with the manner in which his team responded to it.
Butler tallied five pins in earning a key Section 3A match at home, 46-24.
"I knew that Armstrong was a physical team and they were going to push the throttle against us," Stoner said. "We've been amping up for this one. I think in most of the bouts tonight, we were in better position and that was the difference."
Junior Caleb Hartung sparked the Golden Tornado with an inspiring victory in the first bout of the night at heavyweight.
Though he weighs just 207 pounds, Hartung was sent out to battle Armstrong's 282-pounder, Josh Strobel.
The latter managed a takedown and three near-fall points to take a 5-0 lead in the fist period. That is where the score remained until the final period, which started with Hartung in the top position.
Before long, Strobel was flat on his stomach and Hartung, though giving up 75 pounds to his opponent, was able to turn him and get the pin with 1:11 left on the clock.
"With a weight difference like that, I'm just trying to last as long as I can and not get pinned," Hartung said. "A lot of those bigger guys don't have great stamina and tire out."
Stoner explained the circumstances that put Hartung in the 285-pound bout.
"Our heavyweight, Nate Cornibe, is dealing with an injury and Armstrong's 220 (Ogden Atwood) is a state qualifier from last year," he said. "I thought Caleb had a chance to roll their heavyweight and he did."
<![if !vml]><![endif]>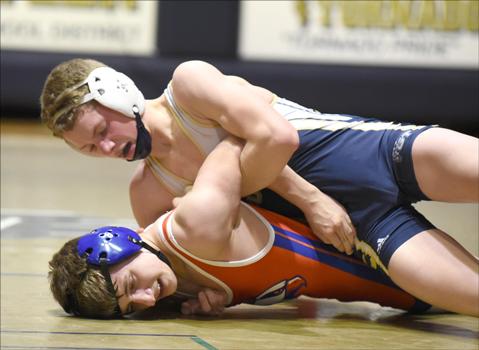 Butler's Clayton Dressler tries to turn Armstrong's Braeden Trumbull on his way to pinning him in the Golden Tornado's 6-24 wrestling win Wednesday night.
JUSTIN GUIDO/BUTLER EAGLE
The River Hawks (1-2) won the next two bouts to take a 9-6 lead, but Dressler managed his own comeback to put Butler up for good.
Armstrong's Braeden Trumbull led 4-2 after one period and 6-4 after the second, but Dressler, who leads the Tornado with 15 reversals this season, came up with a huge one to tie the bout with 1:10 left. Dressler's sixth pin followed soon after.
"It seems Clayton gets down in every match," said Stoner. "He is not great on his feet, but you get him on the mat and that is where he's at his best."
Dressler, a sophomore, is now 10-5 on the season.
"I think he (Trumbull) started to wear out and I was able to put him on his back," Dressler said. "I know I need to get stronger and that is one of my goals for the rest of the season."
Butler's other pins came from Domenic Vivirito (126 pounds), Jack Codispot (160) and Shawndell Zapata (195).
Butler (3-1, 2-1) wrestles at Knoch next Wednesday.
Butler 46, Armstrong 24
(Match started at 285 pounds)
106-Michael Kinzey (A) dec. Nick Schaukowitsch, 5-0; 113-Aaron Robb (A) pinned Guyd Baptiste, :10; 120-Clayton Dressler (B) pinned Braeden Trumbull, 5:29; 126-Domenic Vivirito (B) pinned Brandon Reyes, :54; 132-Nate McMaster (B) dec. Paydon Tyrell, 6-0; 138-Noah Cooper (A) dec. Colton Spohn, 6-4 (OT); 145-Steven Green (B) tech. fall Hunter Turner, 19-4; 152-Nate McDonald (B) major dec. Derek Grafton, 9-1; 160-Jack Codispot (B) pinned Isaac Robb, 2:38; 170-Cooper Baxter (B) major dec. Josh Shaner, 12-3; 182-Logan Harmon (A) pinned Hunter Neff, 1:40; 195-Shawndell Zapata (B) pinned Garrett Kelly, 2:14; 220-Ogden Atwood (A) won by forfeit; Hwt.-Caleb Hartung (B) pinned Josh Strobel, 4:49