Looking For Action
Butler wrestlers stay hot despite limited matches
December 23, 2021 High School Wrestling
Advertisement | Advertise Here
<![if !supportLineBreakNewLine]>
<![endif]>
<![if !vml]><![endif]>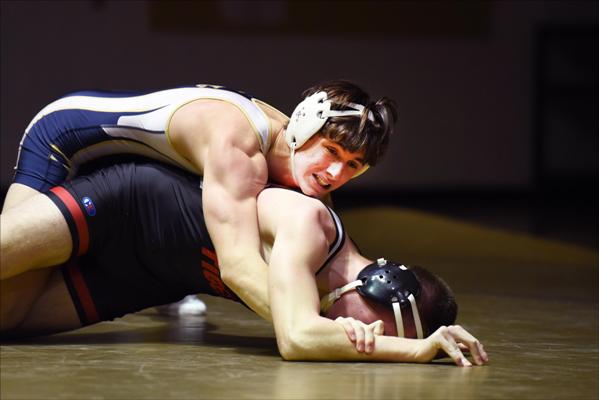 Butler's Matt Zinkhann takes control of Moon's James Spellman during the Golden Tornado's 64-12 wrestling victrory Wednesday night. Zinkhann had one of six pins for Butler.
JOSEPH RESSLER/BUTLER EAGLE
BUTLER TWP — The Butler wrestling team's fast start to the season was never threatened Wednesday night.
The Golden Tornado tallied six pins in a dominating 64-12 decision over visiting Moon.
Butler was crowned champion of the 28-team Chartiers-Houston Tournament Dec. 11 and crushed Beaver, 78-0, in the first section dual of the year four days later.
Due to forfeits by their opponents, the Tornado wrestled just a combined 14 bouts in the victories over Beaver and Moon.
"That's a problem for a lot of the teams in our section," said Butler coach Scott Stoner of empty weight classes on opposing rosters. "New Castle is the same way, they have just three guys.
"We can't get a real idea of where we are."
The Tornado led 18-0 Wednesday before a bout was held due to three forfeits by Moon. Kase Chopp set the tone with his pin of Tyler Zubryd in one minute, 43 seconds at 126 pounds.
<![if !vml]>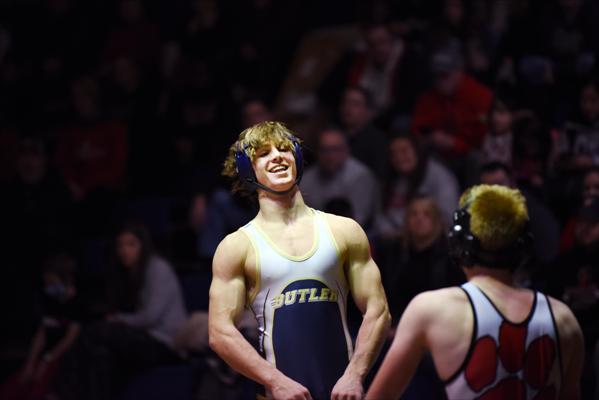 <![endif]>
Butler's Levi Donnel reacts while wrestling Moon's Travis Lindsay during the Golden Tornado's 64-12 victory Wednesday night. Joseph Ressler/Butler Eagle
Domenic Vivirito, Levi Donnel, Matt Zinkhann, Landon Christie and Jake Pomykata also won via fall. In each case, Butler's wrestler scored a takedown early in the first period.
"At this time of the year, we're amping up slowly in practice, but I've been disappointed in our level of aggressiveness," Stoner said. "It was good tonight, though, and I was happy with that."
Donnel's pin of Travis Lindsay at 145 pounds came after the former allowed a reversal near the end of the first period, cutting his lead to 8-4.
"I tried a move there that didn't work out," Donnel said. "I was frustrated about giving up those two points."
But Donnel, a junior, responded by scoring a reversal of his own and pinning Lindsay just 31 seconds into the second period.
He went 4-0 at the Chartiers-Houston Tournament and is now 2-0 in section bouts.
"I didn't do too well last year, didn't make it to the section tournament (at 132 pounds)," said Donnel. "I worked a lot over the summer on my technique and my goal is to medal (top eight) at states."
That's setting the bar high, but Stoner believes Donnel is capable of having a great season.
"Levi has a tremendous amount of potential," he said. "He doesn't always recognize it and we're trying to get him to open up and try some new things.
"He can be so dynamic with his moves. We see that in him, but he needs to use it more often."
Butler will compete at the Southmoreland Holiday Classic Monday and Tuesday.
Butler 64, Moon 12
(Match started at 106 pounds) 106-Brycen Seth (B) won by forfeit; 113-Kelley Schaukowitsch (B) won by forfeit; 120-Gavin Rush (B) won by forfeit; 126-Kase Chopp (B) pinned Tyler Zubryd, 1:43; 132-Khyvon Grace (M) pinned Garrett Walsh, 3:02; 138-Domenic Vivirito (B) pinned Ryan Trimber, :37; 145-Levi Donnel (B) pinned Travis Lindsay, 2:31; 152-Cade Savochka (B) major dec. Josh Bladle, 11-0; 160-Matt Zinkhann (B) pinned James Spellman, 1:21; 172-Mickey Kreinbucher (B) won by forfeit; 189-Luis Carrasquillo (M) pinned Braylon May, 1:09; 215-Landon Christie (B) pinned Gabriel Castner, :45; Hwt.-Jake Pomykata (B) pinned Connor Lindsay, 2:38