Butler rides big early lead to win over SV
John Enrietto Eagle Sports Editor
December 22, 2022 Last Updated: December 23, 2022 04:44 PM High School
Golden Tornado wrestlers collect 4 pins in 39-21 victory
<![if !vml]>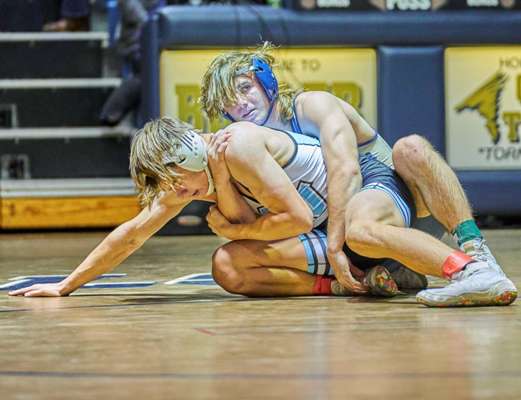 <![endif]>
Butler's Levi Donnel looks up towards the scoreboard near the end of his 10-2 major decision over Corey Wolfe of Seneca Valley on Wednesday night. Shane Potter/Butler Eagle 12/21/22
BUTLER TWP — The 30-0 lead did not surprise Butler wrestling coach Scott Stoner.
In fact, he thought it could have been more.
"I was hoping for a 30-0 lead before Santino (Sloboda's match at 107 pounds)," Stoner said. "When we got the pins at 215 and 285 ... yeah, I felt like we could have gotten a few more points during that opening stretch."
Sloboda pinned his opponent to get Butler's lead to 30-0 and the Golden Tornado went on to a 39-21 dual match win over Seneca Valley in the Intermediate High School gym.
The Tornado (7-0) began the match with three successive major decisions, followed by pins from Landon Christie, Ethan Babay and Sloboda.
"It wasn't a good starting spot for us," Seneca Valley coach Kevin Wildrick said. "But when you lose 39-21, there is no good starting spot."
<![if !vml]><![endif]>Levi Donnel, Matt Zinkhann and Mickey Kreinbucher scored the major decisions for Butler to begin the match. Babay's pin came against previously unbeaten Roman Royal (5-0) at heavyweight.
Babay improved to 9-5 on the season with all but one of his wins coming by pin-fall.
"Ethan is very athletic. He's a heavyweight who can scramble," Stoner said. "It looked like their kid had him dead to rights and he scrambled out of it. That's a major plus for him.
"He's had to wait hjis turn behind Jake (Pomykata) and Ethan learned a lot from him,. He's putting that knowledge to good use. He's pretty aggressive on the mat."
Babay said he used an inside bar to pin Royal to the mat.
"I've been working on that move," Babay said. "In practices, I keep drilling it and drilling it. I felt I could make it work tonight, so I kept trying it. I finally got him to turn. That pin felt pretty good.
"When you see some of your teammates get pins and put together a string of wins like we did tonight, it definitely helps me. I just wanted to keep that string rolling. I was fired up to go out there and try to get a pin for the team."
Butler's other pin came from Kase Chopp (9-3) at 139 pounds. He built a 16-4 lead through two periods before securing the pin at 4:23.
"We did well in spots, but Seneca Valley has a young team and I thought we'd come out with a little more arrogance tonight. I don't feel like I saw enough of that," Stoner said.
"Levi won by major decision, but he kept trying a tilt and it wasn't working. You have to recognize that on the mat and try something else. That's just one example."
Sloboda, a freshman, is off to an 11-0 start this season with six pins.
The Raiders (4-2) received pins from Connor Smith at 114 pounds and Tyler Chappell at 127. They improved to 8-2 and 10-2, respectively, on the season.
"Those guys are our leaders and they always come out ready," Wildrick said. "We're a young team and Butler has a lot more experience. You can't give up bonus points in a dual like this and we have up way too many bonus points early."
Seneca Valley will compete in the Powerade Tournament at Canon-McMillan during the Christmas break. Butler will participate in the 35-team Southmoreland Tournament Dec. 27-28.
BUTLER 39, SENECA VALLEY 21
(match started at 160 pounds)
107-Santino Sloboda (B) pinned Hunter Tillotson, 1:25; 114-Connor Smith (SV) pinned Ana Malovich, 3:45; 121-Kelley Schaukowitsch (B) dec,. Jack Tofanelli, 4-3; 127-Tyler Chappell (SV) pinned Leo Iarrapino, 2:26; 133-Zach Hill (SV) dec. Gavin Rush, 4-2; 139-Kase Chopp (B) pinned Brody Pirt, 4:23; 145-Teagan Leighty (SV) dec. Legend Wilkinson, 5-4; 152-Jacob Eubanks (SV) dec. Dawson Davis, 7-0; 160-Levi Donnel (B) dec. Corey Wolfe, 10-2; 172-Matt Zinkhann (B) dec. John Mallery, 9-1; 189-Mickey Kreinbucher (B) dec. Ryan Wagner, 15-5; 215-Landon Christie (B) pinned Thomas Wuycheck, 1:00; 285-Ethan Babay (B) pinned Roman Royal, 2:37