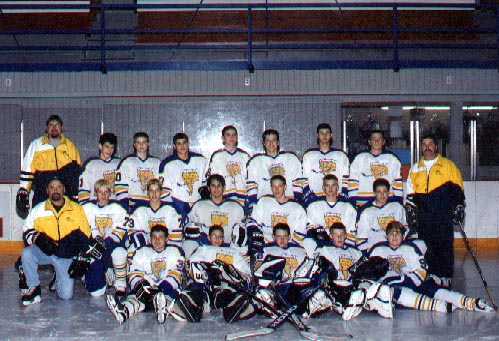 Plum - 2
Butler - 0

Bucky Holt was solid as always for the Tornado stopping 38 of 40. Justin Basham, Mike Guetner, Tim Kaylor, Ron Steighner, Mike Walters, and Luke Wolfe were also solid defensively.
Penn Hills - 6
Butler - 4
The JV's traveled to Penn Hills and played a see-saw battle with the Golden Tornado coming out on the short end of the hockey blade. Rob Gamble tied the contest in the 2nd period, his second of the season. He was assisted by Matt Edgar and B.J. Tipton. Penn Hills rebounded a minute later to take back the lead after a Tornado penalty. The the Coulter combo quickly tied the contest again. Freshman Joe Coulter scored his first score of the season assisted by brother Jimmy and Luke Wolfe. Two minutes later Spencer Crouse gave the Tornado the lead 3-2 with assists from Tony Monfre and Greg Rogerson. The third period was nothing but doom. Penn Hills scored 4 times in 7 minutes to put the game away. Spencer Crouse had goal #4 with 4 ticks left. Goalie Bucky Holt played solidly saving 20 shots on goal. The JV's play next Sunday Feb. 25 at Belmont Arena vs. Plum at 8:45...See you there.....
Butler JV's blow out Norwin

Norwin - 1
Butler - 8
The Golden Tornado Junior Varsity blew away Norwin 8-1. Tornado top evening scorers were Spencer Crouse and Greg Rogerson with two goals a piece. Matt Edgar, Rob Gamble, Patrick Hammonds, and Cam Jurysta added a goal each. Butler's playmaker was BJ Tipton with 3 assists. Spencer Crouse and Andy Turner added 2 assists each, and Patrick Hammonds, Cam Jurysta, Greg Rogerson, Ron Steighner, and Luke Wolfe each added an assist. Goalkeeper Bucky Holt was tough with 12 saves. Butler plays next Sunday Feb. 11th against Franklin Regional at Center Ice in Delmont, PA....Go Tornado!!!
HOLT PLAYS SOLID IN LOSS
Franklin Regional - 6 Butler - 4
The Golden Tornado Junior Varsity hockey squad loss to Franklin Regional 6-4. Goalie Bucky Holt was solid however with 41 saves. Greg Rogerson had an unassisted goal that was quickly followed by Jimmy Coulter's (assist Mike Getner) to tie the contest at 2-2. Rogerson added another later and Tony Monfre fired a power play goal with an assist from Tim Kaylor to round out the scoring for the Tornado.
Butler - 3 Penn Hills - 3
Greg Rogerson with an assist from Mike Walters and Tim Kaylor netted the score at 1-1. Patrick Hammonds and Jimmy Coulter had goals back to back, each assisted by Joe Coulter to preserve the tie. Goalie Ira Gerhart had 21 saves.