Butler Tornado Junior Varsity Softball

more junior varsity softball info...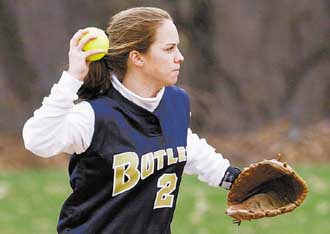 Butler vs. Knoch April 1st win 6 - 0
Butler vs. Fox Chapel April 5th win 18 - 1

The JV Girls softball team beat Pine Richland 12 - 2 April 12, 2010
Amanda Steinheiser - Sophmore had a homerun and a single
Becca Schnur - Sophmore had 2 singles
Fallon Bachman - Junior had a double and 2 singles.

Butler 12, Pine-Richland 2
Amanda Steinheiser sparked the Tornado's win
with an inside-the-park home run and a single.
Fallon Bachman singled twice and doubled,
and Becca Schnur added a pair of singles for Butler (5-0)




2009
Butler – 4 North Allegheny – 3
Amanda Fisher tossed a one hitter picking up her first career victory in Butler JV's 4-3 victory over North Allegheny. Fisher had a no-hitter through 6 2/3 innings. Nikki Hladik scored 3 times including the game winner in extra innings.

Butler - 10 Mars - 0
Amanda Fisher pitched a four-hitter and struck out 10 as Butler blanked Mars, 10-0.
Dayna Sikorski led the Golden Tornado (2-1) with a double, two singles and three RBI. Butler hosts Fox Chapel today.

Butler - 13 Fox Chapel - 8
Amanda Fisher was the winning pitcher and Chelsie Lynch added two doubles to lead Butler to a 13-8 victory over Fox Chapel Wednesday.
Butler (3-1) sent 15 batters to the plate in the first inning and scored nine times.
---
Thank you for your interest in the Golden Tornado Sports. We're upgrading our stat pages to provide you with better information. This site, www.goldentornadosports.net, is dedicated to bringing the viewer as much information as possible about each and every sport supported by Butler Athletics. All information regarding Butler Athletics is generated by students and parents who seek to provide the very best updated material for all to view. We invite you to submit any appropriate material by clicking the below address and attaching, doc.'s, photo's and other pertinent information related to the sport of your choice. Thank You.
www.goldentornadosports.com

Golden Tornado JV Softball Past...