Butler Golden Tornado Softball

more varsity softball info....



Past seasons
2016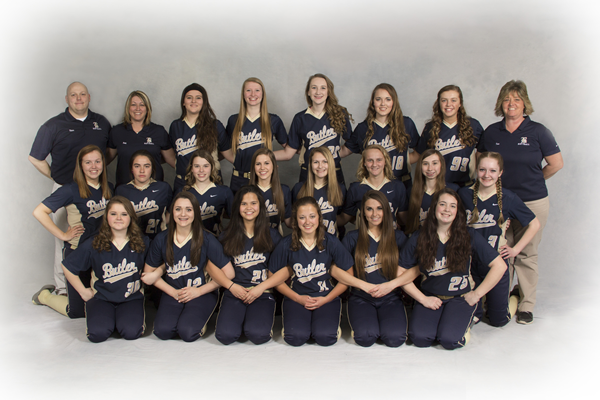 Butler 11 Kiski 3
Jen Miller singled, doubled, tripled and drove in five runs as Butler rolled to an 11-3 win at Kiski.
Alexis Schmeider relieved an injured Alex Graham in the second inning and picked up the win.
Julia Gibson went 3-for-5 with two RBI
for the Golden Tornado


2015
Butler 17, Brashear 0
Kait Barnett had two doubles for the Golden Tornado. Butler scored 12 runs in the first inning.
Butler (12)05 xxx x — 17 13 1
Brashear 000 xxx x — 0 2 6
W: Emily McDonald 3 IP (2K, 1BB). L: Piccolino 3 IP (2K, 2BB).
Butler (1-0): Amanda Webb 2-1B, Jen Miller 1B 2B, Anna Heade 2-1B, Kait Barnett 2-2B, Hannah Hays 1B 2B

Butler 2 Moon 0
Butler softball beats Moon
Emily McDonald struck out six and scattered six hits in seven innings
as the Butler softball team blanked section foe Moon, 2-0.
Catcher Jen Miller came up big defensively, throwing out two runners trying to steal to stall Moon rallies.
The win improves the Golden Tornado to 3-4 in the section.
2015 Softball schedule/results
Butler 17 Brashear 0
Butler 7 Brashear 6
Butler 13 Pine Richland 6
Butler 2 Moon 0
Butler 5 Knoch 4


2014


schedule and results...